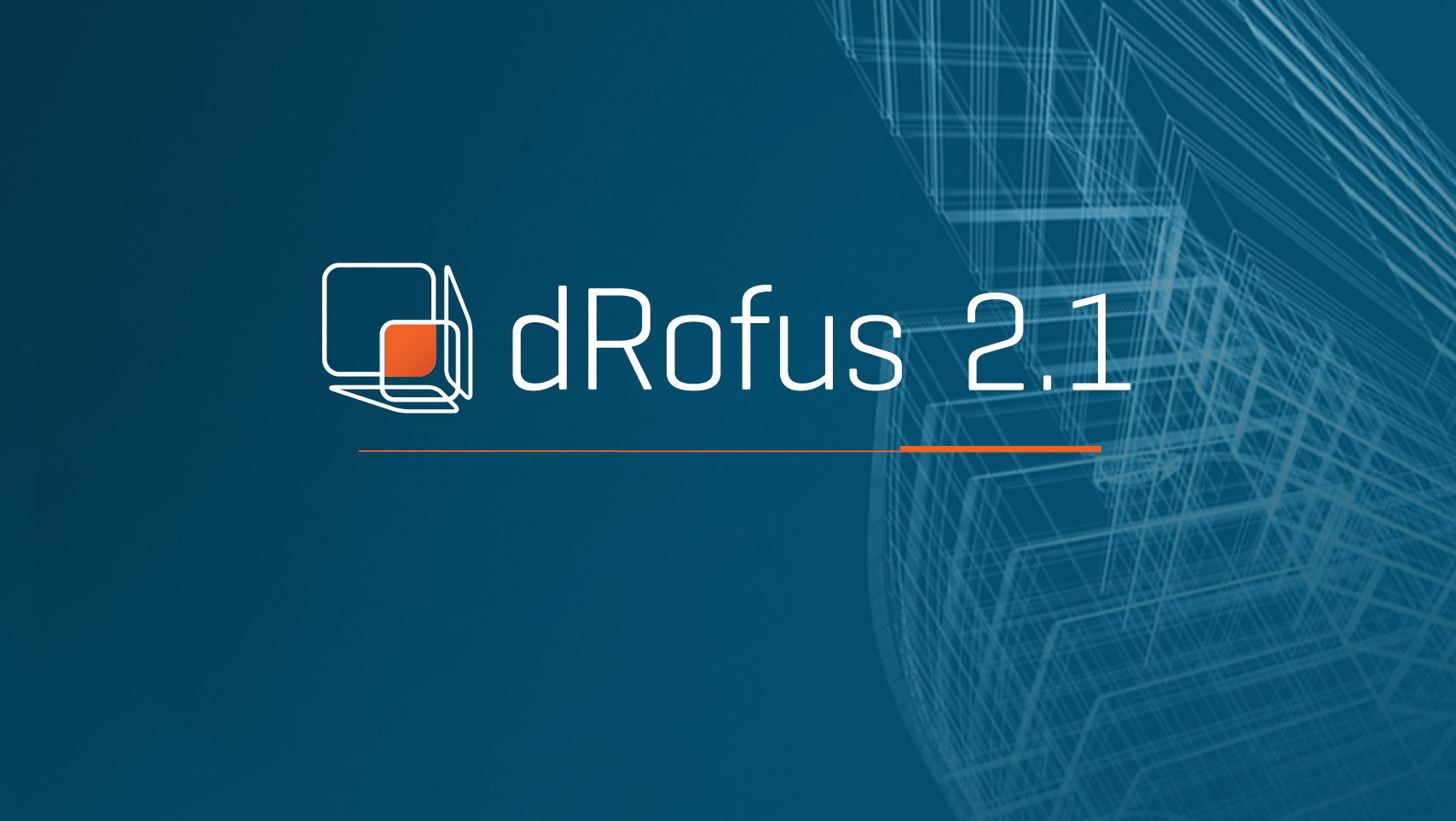 ---
The dRofus team are delighted to announce the global release of dRofus 2.1!

Integration with BIM tools
Integration with BIM Authoring tools has been a point of focus for us since 2006, with extensive support for designers using ArchiCAD and Revit as well as IFC.
dRofus 2.1 will take this integration to a new level with support for linking and synchronization of more ArchiCAD objects, support for advanced workflows using hot-link modules (HLM) and the introduction of the dRofus Panel and auto-sync within our Revit plugin.
Other highlights include improvements to the graphical user interface (GUI), navigation, data input features and the interaction between dRofus client and dRofus Web - accessing and updating project information has never been easier.
---



"With 2.1 we make it much easier to work with Revit AND dRofus at the same time. The room sync is seamless, and you have all those dRofus data as available at your fingertips!"

- dRofus Product Owner, Ida Lau Borch


---
Let's take a closer look
---
Introduction of dRofus panel + autosync


With dRofus 2.1 users can now see their valuable dRofus data inside

Revit. We call it the dRofus panel and it can be switched on and off at will.



In the dRofus Panel you can change your dRofus data and have it stored in the dRofus database directly. If the field you change is synchronized to Revit, the corresponding Revit field will also be updated.
When you turn on our new autosync for rooms-feature, the changes in the Revit fields are directly updated in dRofus. For instance, whether you change a name, or you change a geometrical value - changes are directly visible in the dRofus panel. Feel free to go into the dRofus client and check!


When you select a room and observe your dRofus panel content for that room, you can carry out a number of tasks directly on that room.
You can unlink the dRofus room from the Revit one, and select another dRofus room to link instead. You can open the room and see it inside of the dRofus client if you want to have all of your dRofus tools available. You also have the option to open it in dRofus web and use that as a starting point to find other, related dRofus data.
You can use the dRofus panel action keys to open the items-in-rooms list, to see the list of those dRofus items (or Revit family types) that are found in the room.
It is not only rooms that are available in the dRofus panel. You can open an item (Revit family type) or an occurrence (family instance) and work with them in the same way as you can with rooms.
If you have linked a space or an area to a dRofus function, these are available in the dRofus panels the same way.
Support for Revit 2019
Delete key values when copying Rooms and Family types, and instances.

Autologin
Makes it possible to store Server/Database details in the Revit model so that the user is

automatically logged in the next time they open the model

. This feature needs to be used in combination with the new "Remember password" function. Read more
Track changes improvement
Automatic sync of values you change in Revit/dRofus. Read more
---
Archicad integration
Archicad integration – link to hotlinked zones' attribute as key2-way sync for objects – itemsSync IFC properties with itemsSupport for slabs



Support for ArchiCAD 22
Ability to use HLM Zones' Parameters as key to connect to dRofus. Read more
Support for object types including Doors, Windows, Walls, Lighting fixtures, Curtain Columns, Beams, Stairs, Railings, Roofs, Shell, Skylight, Morphs, Mesh and Curtain Walls
Doors' "To Zone" Parameter used as the default when picking up Doors by dRofus Archicad plug-in
---
IFC
Import IFC-attributes for systems and components to dRofus
---
Improved calculation of areas


Add areas and see calculations also for the top (project) level

Add building gross/net factors, enabling two-level gross/net factor calculations

Plan gross/net factors on all levels of the function structure

Choose if you want to propagate a gross/net factor down to the lower areas of the function hierarchies

Compare your areas as they change throughout early (function) planning, programming and design

See all changes on the function structure through the log on projects and functions

---
Improved navigation and data entry
Create derived Room Data and Equipment lists from Unique status. Read more
Import Companies from Excel. Read more
Excel export for logs. Read more
More flexible numberings of items
We've had several requests from customers to enable more flexible use of dRofus autogenerated Item Numbers. These requests have been heard and in 2.1 it's possible to manually overwrite Item numbers and to re-generate Item serial numbers automatically to fill the gaps when Items are deleted. For those using the Item numbers in classification codes we have also separated the Item serial number into a separate property to view and handle separately from its item group number. Read more.
Logs for Functions / Sub Functions. Read more
Remember password upon login
Remember sorting of columns from one session to another.
Logs for Functions / Sub Functions.

Read more
Remember password upon login
Remember sorting of columns from one session to another.
---
Improved interface and integration between client + web


More interactions between the client and the web for easy navigation
---

And remember…if you have access to dRofus client you can also access dRofus web.
Available from:
Projects on db2.nosyko.no (Europe)
Click here
Projects on us.drofus.com (USA and South America)
Click here
Projects on au.drofus.com (Australia, Asia and New Zealand)
Click here
Projects on ca.drofus.com (Canada)
Click here


Click here for the complete release notes list



Enjoy dRofus 2.1, and as always, your feedback is always welcome!