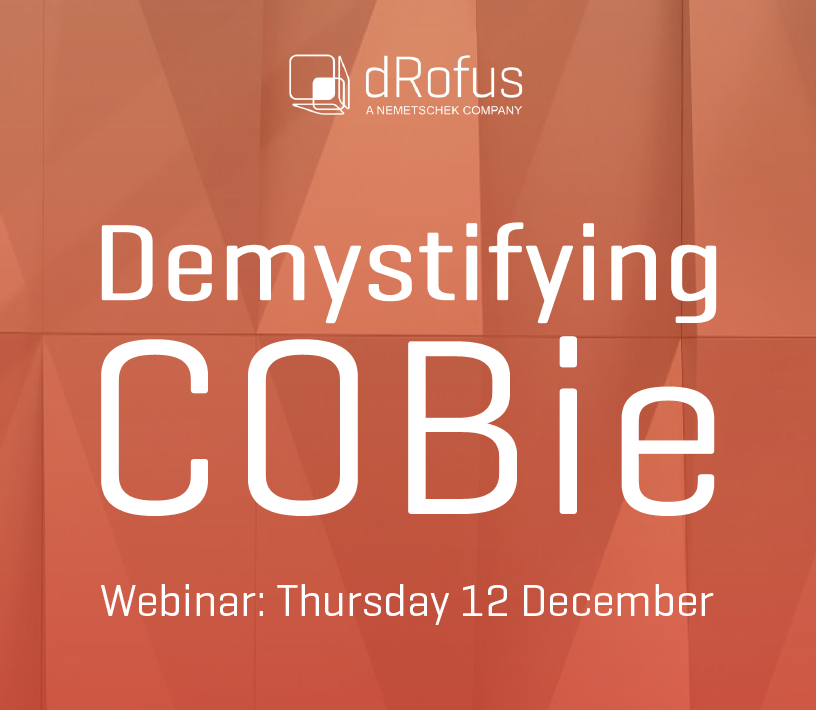 What really is COBie, how is it being used and what does it mean to deliver it? More importantly, how much will it cost me?

These are just some of the questions teams are asking as more and more building owners are starting to adopt BIM standards and require data deliverables at handover. Increased pressure is put on design and construction teams to manage data deliverables, many times in a COBie format.

In this webinar David Spehar will address the who's, what's, why's and how's around capturing, managing and ultimately delivering COBie. He'll explain the importance of understanding the building owner's needs for capturing data to ensure teams efficiently collaborate to meet requirements with minimal waste and rework. Finally, he will talk about using dRofus to manage the COBie data in a collaborative platform and how it can be used to provide a true COBie-compliant BIM deliverable – not just a COBie spreadsheet.
The presentation has been pre-recorded to ensure that we get through all the content and leave enough time at the end to answer some questions.
We encourage you to take advantage of the webinar's chat window to post questions and comments during the presentation. We'll be collecting all questions and will do our best to answer them at the end. Don't worry if your questions don't get answered live. We will be recording this entire webinar and will follow up with an email documenting all questions and answers along with a link to the recording.
FREE Registration:
North America
THU, DEC 12, 2019 12:30 PM - 01:30 PM MST:
https://attendee.gotowebinar.com/register/1717263842888557579
THU, DEC 12, 2019 12:30 PM - 01:30 PM EST:
https://attendee.gotowebinar.com/register/3388535810758253324

Europe
THU, DEC 12, 2019 02:00 PM - 03:00 PM CET:
https://attendee.gotowebinar.com/register/7773070423469821963

Asia-Pacific (incl ANZ)
THU, DEC 12, 2019 02:00 PM GMT+11:00
https://drofus.webex.com/drofus/onstage/g.php?MTID=e9db3b20fc73b47e86d6e571e5115cdea


About the speaker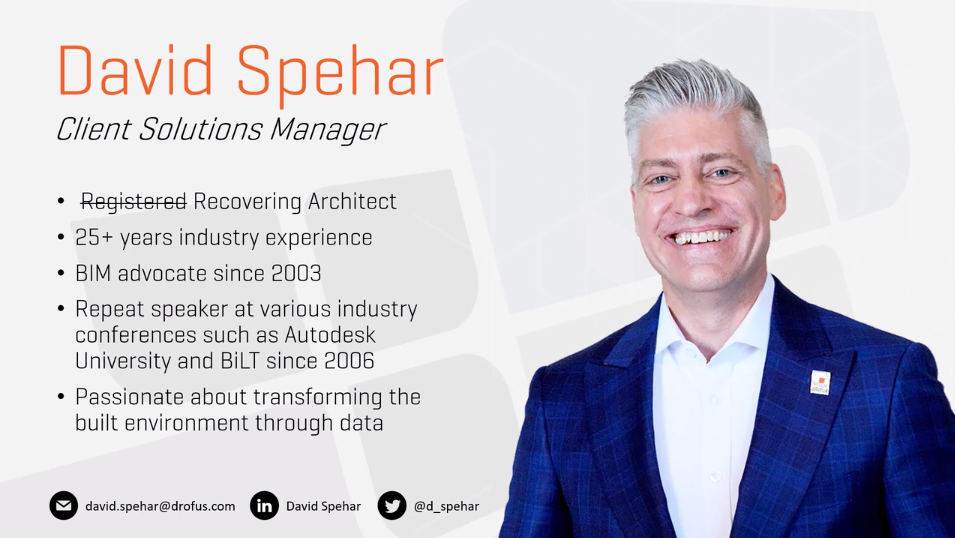 David Spehar has over 27 years of industry experience and has been a registered architect since 1994. He was an early adopter of BIM and has been an advocate since 2003. David joined dRofus in 2017 as a Client Solutions Manager and is responsible for assisting clients with successful adoption of dRofus as part of a BIM workflow. In addition to his experience as a design technology leader, David has a strong background in architectural project management. He was a project manager for over 12 years before shifting his focus to implementing design technologies. David has regularly presented at various conferences including Autodesk University, BiLT, CanBIM and the BIMForum.